Mitchell Creek Green (Zuccolli Stage 2)
Client: Brierty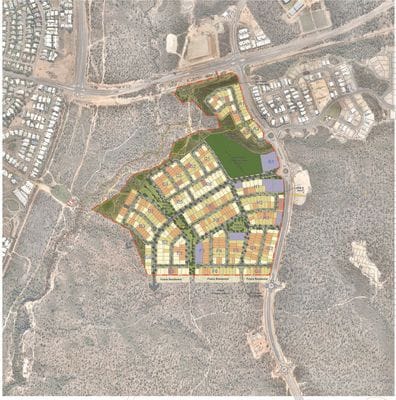 Mitchell Creek Green is a new development of approximately 450 lots to the south-west of Palmerston. TPG's design responds to the enviable site characteristics and incorporates a network of interconnected linear parklands and engages with the Mitchell Creek open space corridor. Planning approvals were achieved swiftly through close collaboration with the City of Palmerston and Northern Territory Government.
The project is playing a key role in a paradigm shift in the perception of density in suburban Darwin. Lots under 800m2 are classified as 'MD Medium Density'. TPG worked with the local Council and builders to develop guidelines and building typologies to suit lots ranging down to 300m2 that were able to manage local issues such as the often heavy stormwater flows termite barrier issues for zero-lot boundaries breezeways and contribute positively to the public domain.
TPG has had continued involvement with the project, through housing application assessments against the project's design guidelines and responding to emerging issues.
Back to Regional Planning and Development