Where urban infill meets suburbia; managing conflicts through design
There are many barriers to infill development for Perth and cities worldwide. One of these barriers is embedded in the issues and conflicts between infill and suburban-scale development. Recently one of our Planners, Bronwyn Slater, who is also a Masters student at the Australian Urban Design Research Centre, researched the transition between infill and suburban densities as part of her Masters thesis. The research examined the issues of bulk and scale, privacy and overshadowing and offered a range of urban design techniques to manage these conflicts.
Activity corridors were used as an infill case study, due to their important role in the future of infill development. This led the research to focus on the rear interface, where infill development abuts suburbia, and the most dramatic transition in density. A series of 'universal' techniques were realised that were broadly applicable for managing these transitions, along with more 'site-specific' context responsive techniques. For example, the considerations for downward sloping sites as demonstrated below.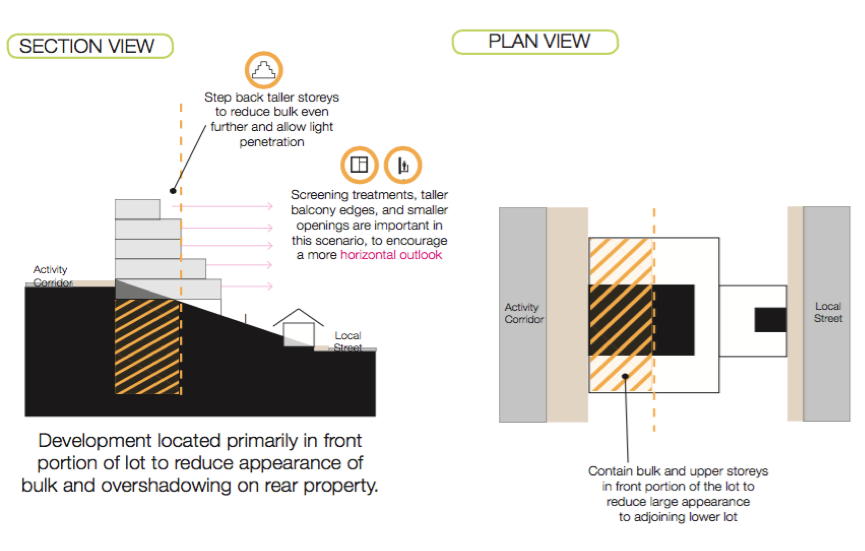 Together these techniques form a suite of approaches that can help Local and State Government as well as developers to better integrate infill developments. It is hoped the techniques can be applied in circumstances beyond activity corridors to manage the interface of transitioning densities more broadly.
Well-designed infill developments could help to fulfil the State government target of 47% of new development as infill to accommodate the growing population. The State government is looking to draft a strategy that relates to the design and delivery of apartment (and infill) developments. Addressing the transition in density through design, particularly at the rear interface, could help to manage these issues and create well-designed developments that integrate better with existing communities. Perhaps this is one of the ways to break down the barrier and reduce conflicts between infill and existing communities.
Bronwyn Slater - Urban Designer and Planner