West Coast Institute of Training McLarty Avenue Joondalup Campus Place Plan
Client: Department of Training and Workforce Development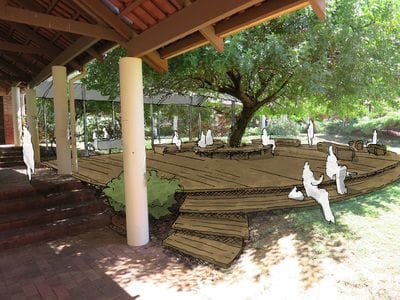 Recognising the importance of creating student friendly places, the Department of Training and Workforce Development appointed the TPG placemaking team to assist with delivering cost effective short term change at a former High School which is now the West Coast Institute of Training campus delivering a range of health, education and social service training programmes. A place plan was developed and built into an overarching master plan that considered the campus's development in the short, medium and long term.
A place making approach was adopted during this project with the intent of strengthening the connection between people (students, staff and visitors) and the place they share. The findings of place assessments and conversations with students and staff provided valuable insight into the user's current and desired campus experiences.
The premise of the place plan is to provide a balance of comfortable and enjoyable places on campus where students and staff can engage and retreat. Areas of focus included transforming:
The pedestrian site access points and wayfinding on campus;
A sterile canteen into a warm and lively meeting place;
An empty courtyard into a place worth stopping and staying longer; and
A remnant sand dune and area of bush land into an active outdoor play space.