Sunset Transformation Strategy
Client: Department of Finance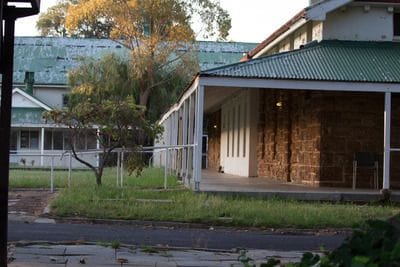 Sunset Hospital (former) is a State registered heritage site that forms part of the attractive landscaped riverside in Perth's suburb of Dalkeith. TPG was commissioned by the Department of Finance to provide specialist heritage and planning advice to a 'Transformation Strategy' that was being prepared for the site. The project set out to find a viable end use for the site that would transform Sunset over time into a unique Government owned, sustainable asset for arts, cultural and community use, that has a high level of heritage conservation, public access, amenity and engagement with the river.
TPG's role initially involved the survey of 18 heritage buildings and the preparation of a prioritised schedule of conservation works for each of the buildings to ensure the significance of the site was respected in the conservation and adaptive reuse of the heritage fabric. These works were then assessed to define a budget for the State government in order to manage the significance of the site as it develops over time.
Secondly, our heritage component included the preparation of an Interpretation Strategy. The purpose of this document was to guide the implementation of the Landscape Masterplan through the use of interpretive media using identified historical themes.
Finally, we provided advice on the various land use planning aspects of the transformation, ensuring that the small amount of development on the periphery of the site was sympathetic to the area in which it was being proposed, as well as to local and State government policy.