Riseley Activity Centre - Structure Plan
Client: City of Melville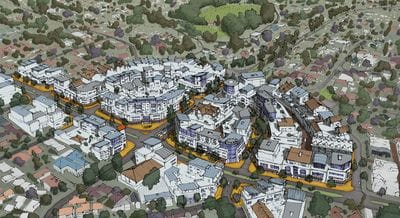 TPG was engaged by the City of Melville at the beginning of 2013 to prepare a Structure Plan for the Riseley district level activity centre. This project was much more than just preparing a Structure Plan. It built upon previous initiatives to set the future vision for the Riseley Centre and look to achieve implementable urban design, development and economic framework as a catalyst to urban renewal and transformation.
The Riseley ACSP project was a direct response to a key objective of the City's, which is to concentrate population growth and development around activity centres and transit nodes. This objective responds to the State Government's high-level spatial framework and strategic plan Directions 2031 and Beyond and the City's draft Local Planning Strategy 2011-2026, which embodies the values and aspirations of the local community.
Central to this project was the participation of the community and the engagement approach developed by our Conversations team. So working with the local community, the team was able to ensure that the extent of growth and intensity was contained within the core and heights transitioned for a maximum of six storeys down to three storeys at the periphery.
The team were able to incorporate a wide range of inputs through a series of information sessions, facilitated workshops, pop up displays, general advertising and the establishment of a community reference group. This allowed the team to work collaboratively to find a balanced solution that, in the main, built upon the character of the centre as well as providing opportunities for growth spanning the next 20 years. It also enabled the local community's desire to concentrate growth and limit the need for change within established residential areas.
The Riseley ACSP successfully managed to deliver a strongly supported framework that could cater for an additional 9,990 square metres of commercial floorspace by 2022 and 300 residential dwellings by 2031. The structure plan was adopted in early 2015.