Pakenham Street, Fremantle
CLIENT: WESTBRIDGE PROPERTY GROUP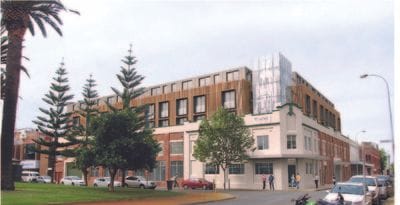 TPG recently secured approval for the development of a $30 million serviced apartment hotel in the port city's West End, for Westbridge Property Group.
The proposal included the adaptive reuse of a 1930s warehouse and office at the corner of Pakenham and Short Streets, with several floors of accommodation rising above the existing building. The approved design pays homage to the original building on the site, known as 'Manning's Folly', with historic photography of the former iconic building digitally printed in the glazed corner component.
The site has now been purchased by Sirona Capital to undertake the development of the Quest serviced apartment hotel.