Onslow Townsite
Client: Shire of Ashburton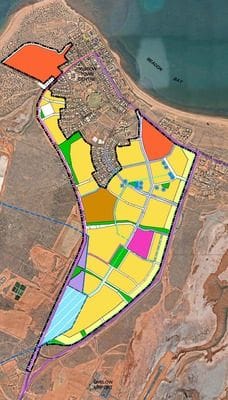 Over the last few years, TPG has been working with LandCorp and the Shire of Ashburton to develop growth strategies to deliver much-needed land within and surrounding the Onslow townsite. Importantly, growth will need to build upon the existing strengths of the local economy as well as the impending growth in the resource sector. The vision for Onslow is to ensure "Onslow is known as a town with LNG plants and not an LNG town".
In 2012, the Stage 1 Structure Plan was approved, allowing for the construction of 220 residential lots at Barrarda Estate.
TPG, the Shire of Ashburtonand LandCorp received approval for the overall Onslow Townsite Expansion Structure Plan in June 2016, which covers some 200 hectares of land, expanding the existing townsite. The Structure Plan, together with a series of Scheme Amendments, provides a long-term planning vision which will allow Onslow to continue to grow and ultimately accommodate 3,500 people.
Back to Activity Centres, Retail and Commercial