Retail: The New Boom?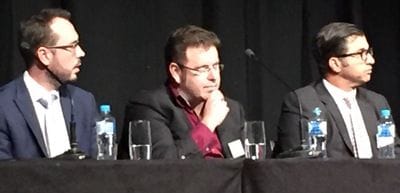 Being heavily involved in the retail sector in Western Australia and beyond, the team at TPG were very proud to sponsor the Property Council WA lunch 'Retail to the Rescue' at the Hyatt Hotel on the 18 March 2016.
Keynote speaker Tony Dimasi, Managing Director of Macroplan gave an insightful and detailed presentation on the current and projected future situation with the WA economy as well as emerging retail trends and WA retail developments. This was followed by a series of questions being directed to an expert retail panel comprising; Tony, Jim Tsagalis from Lease Equity, Scott Nugent from AMP Capital and Prue Cunningham from Stockland. Also on the panel was TPG's Murray Casselton, one of our principal planners who has been involved in many major retail centre developments in Perth, including the Perron Group and Lend Lease portfolio of retail assets.
Key messages at the lunch were that although we have seen the end of WA's mining boom and a flattening out of population growth, service sector growth is still a major driving force in the WA economy with wages and job demand high in the human services, food services and construction sectors. With the exception of the mining sector, projected employment growth in WA remains high, which will drive retail sales growth into the future.
Generational shift is also occurring across Australia with Generations Y, Z and Alpha forming an ever-increasing proportion of the population, resulting in a corresponding shift in demand profile and retail expenditure. The influence of baby boomers in the retail space has and will continue to wane, with less brand loyal and non-conformist later generations becoming the target markets for future retail expansion and innovation. These later generations are very comfortable with on line shopping but are also looking for more 'experiential' places that offer opportunities for social interaction meaning that they are equally as open to the 'right' bricks and mortar offer that reflects their sense of identity.
Changes occurring to the demographic profile have led to recent international arrivals in the retail space in particular 'fast fashion', creating great excitement in shoppers, a trend that is expected to continue. The traditional food offer has also been completely reinvented itself and taken a much greater share of retail turnover this being at least in part due to the publicity associated with TV food and cooking shows like My Kitchen Rules and Master Chef.
In response to changing demand, retail centres have grown in size significantly in Australia over the last two decades. This has allowed for essential continual improvement, the creation of much more attractive and beautiful environments with a tangible 'sense of place' and the incorporation of more food and beverage to provide consumers with an experience that they value and enjoy.
In Western Australia food spending is expected to continue to grow strongly with slower increases in discretionary retail spending. In response to this growth and to meet latent population driven demand caused by the removal of the hierarchy of artificial retail floorspace caps in 2010, significant retail centre growth is projected in Perth through to 2021. This will include a pipeline of more than 350,000 square metres of additional retail floorspace in major centres alone, involving an investment of more than $3.7 billion.
The delivery of high streets, aspirational spaces and residential development within a broad cross section of centres as currently required by State level planning policy is likely to remain challenging due to the greater cost and risks involved. Nevertheless, at TPG we believe that the right expert planning, design and place making advice that leverages current trends and the opportunities arising out of imminent strata title legislative reforms, can change the playing field for the positive, and create a whole range of new and exciting development opportunities throughout the State.
At TPG we are very proud of our contribution to the evolution of retail development and centres in Western Australia and we would be very happy to apply our expertise to assist new clients to embrace the new retail paradigm and to maximise emerging opportunities in this space. Click here to contact Murray Casselton.