Megatrends and Property: Perth's Smart Future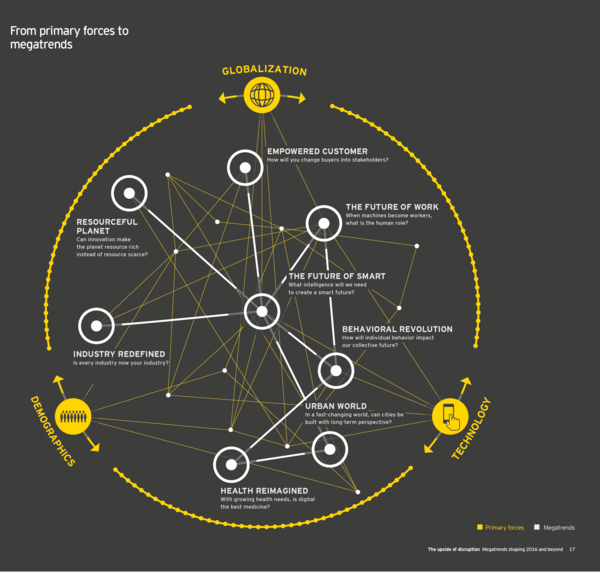 Image: Ernst & Young
Disruption, megatrends, autonomous vehicles, drones these are all words we have been hearing buzzing around in conversations of late.
But what does it all mean? It means we are searching for the underlying drivers of change that will impact our own, and our industry's future.
At TPG + Place Match, we believe that it is important to be at the forefront of that change. On Friday 14th of October several staff members attended the Property Council of Australia's luncheon, Megatrends and Property: Perth's Smart Future, to gain insights into the trends shaping our future.
The first speaker, Selina Short from EY, shared her insights and her team's latest research about the most prominent megatrends that will shape our future and transform many sectors, including that of property. This research is compiled in a report called 'The upside of disruption, megatrends shaping 2016 and beyond'.
Selina highlighted three megatrends she believed would have the biggest impact upon the property sector:
The future of smart (smart cities and intelligence);
Urban world (long-term city building); and
Resourceful planet (innovation to make the planet resource rich).
The future of smart appears to already be upon us, with a development in Amsterdam 'The Edge', being described by Bloomberg as the 'smartest building in the world'. It knows where you live, what car you drive, and how much sugar you take in your coffee. It is at the forefront of workspace technology, embraces flexibility in office spaces, and green sustainable practices. You can read more here.
In his presentation, Adam Beck, the Executive Director of the Smart Cities Council Australia New Zealand, made it clear that he thought autonomous vehicles would have the biggest impact on our cities. Firstly, this would occur through shared means such as public transit, and he noted that it has already hit Perth through the recent driverless bus trial in South Perth.
The impact this could have on our cities is still being realised, however, some groups are beginning to prepare. Shopping centre owners are factoring in the re-development of their expansive car parks from the outset, given we may reach a time when the highest and best use of this land goes beyond a sea of stationary cars. The impact of this singular technological advancement on our broader transportation system and the places we live, work and play is beyond fascinating. Just look at the impacts ride-sharing services have had on our trips already.
As Selina eloquently stated, the best way to predict the future is to create it, and by understanding the underlying trends we can hope to realise this future. The more insights we can share about the rapid advancements in technology and changes to life as we know it, the better we can prepare to adapt and change.
Bronwyn Slater - Town Planner