Guildford Hotel - A Phoenix Rising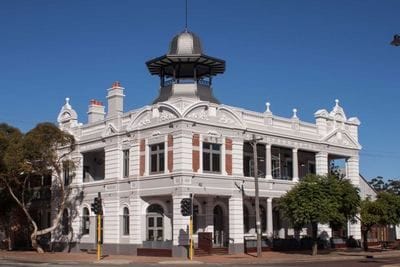 A phoenix from the ashes - yes, a term that will continue to be used to describe the Guildford Hotel, but not one that can be overused in this instance. A pub that was, on the face of it, an accepted part of the landscape, however like many of our landmark heritage buildings, it was perhaps taken for granted. Then in 2008 the fire, that could have been catastrophic, galvanised a community and in doing so demonstrated that this Federation era hostelry (with an 1880s core) had a greater social significance than anyone probably realised.
It is fitting therefore that in the recent restoration the damage caused by the fire was not brushed under the carpet, nor was the building over-restored. As TPG's heritage team undertook its early investigations it became clear that much of the pre-fire appearance of the interior spaces were from an early 1990s renovation, which diluted some of the more significant features. The lead architects, Fratelle Group, were passionate about embracing the stories and features that had been created by the fire, which also offered the opportunity to reveal/interpret the earlier 1880s core. In addition to the blackened joists and crumbling plaster, the fire also revealed Gold Boom era stencilling and bricks moulded by convicts. One brick even displaying the paw print of a frolicking feline. These elements would otherwise have never been seen, and their contribution to the history of the building is now being celebrated.
The fire has acted as a bookmark in the history of the Guildford Hotel, a pause in the story that has now recommenced with gusto. It was an event that should not have happened, but in accepting it as a layer of the building's history, it has provided opportunity to reinvigorate this historic icon. This was a project that carefully balanced the Burra Charter principles of restoration and adaptation and achieved an outcome that TPG hoped it would. It revitalised an iconic landmark in the Guildford community and gave them back their pub and what a fabulous rejuvenation it is.