State Government seeks comment on the Perth and Peel Green Growth Plan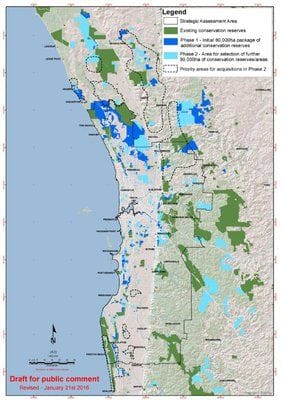 The State government is seeking comment on the Perth and Peel Green Growth Plan for 3.5 million (Green Growth Plan), with submissions due by 8th April 2016. This document represents a significant step forward in securing development and environmental outcomes within the recently released Perth and Peel @ 3.5 million policy document.
Critically, the Green Growth Plan seeks to establish the following:
A Strategic Environmental Review of the Perth and Peel metropolitan region, to secure upfront Commonwealth and State environmental approvals to streamline the delivery of development outcomes contained within Perth and Peel @ 3.5 million.
Identifies 170,000 hectares of new and expanded conservation reserves in Perth and Peel regions and immediate surrounds. Of this, 90,000 ha of conservation reserves is expected to consist of land currently in private landholding. Please review the spatial plan carefully to determine whether your land may be impacted by this proposal.
A certification process for rural land of 40 ha or greater in area, to implement steps to reduce nutrient run-off into the Swan Canning and Peel Harvey estuaries.
Additional avoidance measures for environmental assets on private landholdings.
A revised wetland buffer policy for Conservation Category Wetlands and effectively a reclassification of the conservation status of Resource Enhancement Wetlands.
Click here for the link to the documents for your information.
TPG staff have recently been briefed on the policy framework by the Emerge Associates environmental team and are well placed to answer any questions you may have. We have also prepared a summary document which we can make available to our clients.
Please don't hesitate to get in contact with Mike Davis of TPG or Jason Hick at Emerge Associates should you wish to discuss the implications of this draft policy framework on your landholdings or should you wish TPG to make a submission to the State government on your behalf.