Lost in Gentrification - New York's Chinatown is becoming less Chinese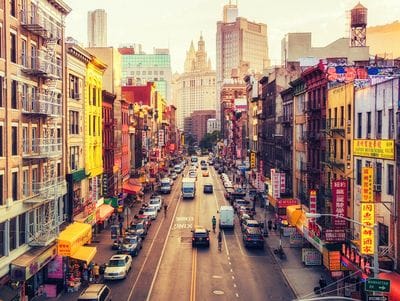 Urban Issue 4 | An article from our New York Correspondent Alex Frankcombe
Wedged between the Lower East Side to its east, Little Italy and SoHo to its north and Tribeca to its west, Chinatown in Lower Manhattan has previously experienced less new development than it's surrounding neighbours combined with lower rents. However, Chinatown is struggling to maintain its cultural and economic identity in the face of Lower Manhattan's (and the rest of New York for that matter) soaring real-estate values and changing demographics. Garment making warehouses and discount stores on the edge of the neighbourhood are being replaced by cold brew coffee bars, art galleries, new hotels and luxury condos bringing with them an influx of non-Chinese residents as the trendier neighbourhoods begin to spill over. Between 2000 and 2010, all racial groups declined except for Whites, which increased by 19%. It can also be seen in the decline of family households, as young professionals replace multi-generational Asian families.
However, to Chinatown's advantage, many of the neighbourhood's rental and for-sale transactions take place in non-traditional ways. According to one agent, or brokers as they are referred to here, 75 percent of the rental stock is controlled by a small number of local brokerages and almost exclusively transact among the Chinese community. Low rent apartments pass by word of mouth between friends and family connections or in Chinese newspapers.
Since the 1980's, satellite enclaves in Flushing (Queens) and Sunset Park (Brooklyn) have grown in prominence, establishing themselves as "new Chinatowns", with affordable rents and less overcrowding. But will Manhattan Chinatown's ethnic bonds responsible for the neighbourhood's resiliency so far, guide it through New York's booming property industry or will it share a similar fate to the Italian community in Little Italy and the once Jewish Lower East Side. The Chinatowns of Chicago, Boston, Philadelphia, and Washington, D.C. and even closer to home in Australia have been in decline, reduced to "ethnic theme parks" where the original residents have been priced out of the housing market and new immigrants are attracted elsewhere.
To end on a high note, one nationality currently establishing themselves in New York and transforming drip coffee to flat whites and expanding the culinary experience of Americans through Tim Tams and Vegemite, yep you guest it mate, Australians! A 2005 American Community Survey taken for the US Census estimated that 5,500 Australians resided in New York City. Six years later this number had risen to over 20,000 according to a 2011 snapshot provided by the Australian Embassy. Walking through the streets of the Lower East Side or NoLita or even Williamsburg you could be forgiven for thinking that you're back home. Although, you're quickly brought back to reality upon tasting the coffee and paying $4-5USD for a flat white. You thought Perth was expensive. Crickey! Try having to tip them too!