Morawa - The Gift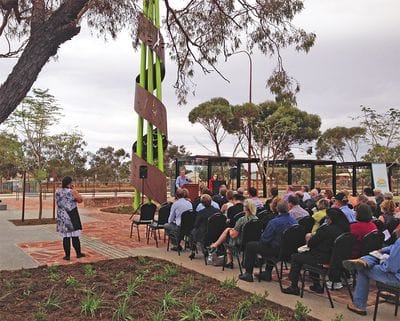 How would you spend five million dollars on a town with only 900 or so residents? A new civic building? More sporting facilities? Infrastructure upgrades?
For the town of Morawa the answer was to create a central civic space. A space that connects the town. A space for people.
Morawa is a town of two hemispheres, divided by freight rail. Through the SuperTowns project, TPG helped evolve ideas collaboratively with the Shire, Landcorp and Porters Engineering to help unify and better connect the town. Morawa chose to divert road trains out of their main street to create a more pedestrian friendly environment and also to re-cast surplus road verge into a Town Square and celebrate the pedestrian crossing point.
As town squares go, Morawa's is fairly unique in being a space that is not defined by or derived from new buildings. The two projects combine to reclaim lost space and create shaded, inclusive and pedestrian-friendly environments.
The gift to Morawa from the Royalties for Regions scheme should have a lasting legacy. Emerge Associates have crafted a beautiful space that works to invite and encourage passers-by to stop, pause and linger. It sets the tone for an authentic and earthy place to grow without necessarily expanding. And it is a delight to be in.