McNess Royal Arcade facade restoration
CLIENT: ST MARTINS PROPERTY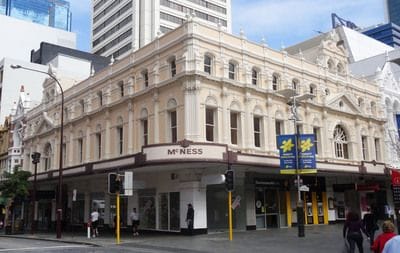 TPG's Heritage team has recently completed their commission as heritage consultants for the McNess Royal Arcade facade restoration project. This iconic building dates from 1897 and sits on the corner of Barrack and Hay Streets in the Perth CBD.
The project, which was partially funded by the Heritage Council of WA and the City of Perth, was project managed by Total Project Management and involved a significant injection of funds by the owners St Martins Property.
Our scope of work was to specify the restoration works to the stucco facade and oversee the works on site. We commissioned a chemical analysis of the render and 3D scanning of the facade. Our team also carried out extensive paint scrape analysis and worked closely with the contractor to refine the extent of repairs as works dictated on site.
The facade has been restored to a high standard, based on the principles of the Burra Charter, and of particular success is the paint scheme, which is closely based on the historic palette of colours. In addition, the reintroduction of urn finials to the top of the parapet enhances the architectural composition as was originally intended. We are delighted to have contributed to this significant heritage project.