Curtin University Place Activation Plan
Client: Curtin University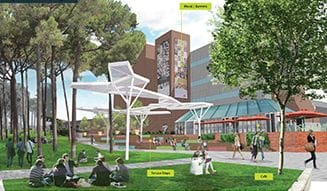 TPG collaborated with a team of consultants to develop the Curtin University Place Activation Plan: the basis of the 5-year Development Plan guiding capital expenditure by the Properties directorate on campus wide improvements.
In recent years, Curtin has sought to establish an international reputation for academic excellence. To achieve this, our Place Plan considered that campus life is a significant aspect of student satisfaction and that a fun and vibrant campus is a significant hook to attracting students. International benchmarks suggest a move towards 'university towns' where campuses provide more of the day-to-day services, accommodation and entertainment on campus rather than on the periphery.
Establishing a variety of attractive destinations on campus is essential to attracting students to stay on campusfor longer and seek activities that complement the core educational function. In many ways, campus planning is like a microcosm of a larger city context and the principles we applied to this project are adaptable to a variety of contexts. The project sought to strengthen existing places within the campus to respond to the themes and interests of the students that use them and/ or faculties that surround them; gain extensive knowledge from stakeholders and the community to inform place- planning direction; identify quick wins that provide 'lighter cheaper quicker' (acknowledgements to PPS) changes and programmable activities to deliver visible change quickly to establish momentum; integrate and activate commercial, retail, civic, recreational and residential activities and improvement to the pedestrian experience; promote high levels of amenity and attraction by identifying key physical and non-physical place making elements to provide depth to the plan; and increase diversity through the inclusion of a variety of housing, a variety of active land uses and building forms.
The project was enthusiastically received by the university and Curtin has already taken significant steps to implement the recommendations of the plan; having set up an outdoor cinema, mobile food and beverage outlets and lighting infrastructure.