Byford Town Centre
Client: Coles Group Property Development Limited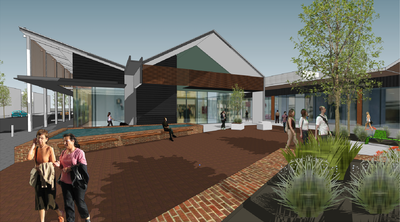 TPG Town Planning, Urban Design and Heritage (TPG) has prepared this report on behalf of Coles Group Property Development Limited (Coles) to support a development application for the development of the first stage of the Byford Town Centre located on a portion of Lot 2 Abernethy Road, Byford (the subject site).

The subject land is zoned 'Urban Development' under the Shire of Serpentine-Jarrahdale Town Planning Scheme No.2 (TPS2), and is subject to the Byford District Structure Plan. Byford is classified as a District Centre under State Planning Policy No. 4.2 Activity Centres for Perth and Peel (SPP4.2) and therefore the retail floorspace within the Town Centre is limited to 15,000m2 (NLA). The proposed development will incorporate a number of different retail tenancies, the exact details of which will depend on finalised leasing arrangements. Whilst these tenancy-leasing arrangements are yet to be finalised, the proposed development includes a Coles Supermarket, a range of specialty retail and other commercial tenancies and a café/restaurant, which collectively form the main street of the Byford Town Centre.

In summary, the application proposes the following:
A high amenity contemporary built form, incorporating activated tenancies that will establish a 'main-street' adjacent to the supermarket in accordance with the Byford Town Centre Structure Plan.
The development of a Town Square, which is designed to act as a vibrant pedestrian destination and meeting point, reflective of Byford's history.
The construction of an at-grade car park in the eastern section of the subject land with an integrated vehicle and pedestrian access network that will be required to safely and legibly service the proposed development.
The construction of appropriately positioned service areas, including those associated with the development of the restaurant.
The report details those aspects of the statutory and strategic planning framework relevant to the proposal and provides an assessment of the development against the provisions of the Shire's TPS2, the Byford Town Centre Local Structure Plan (LSP), relevant aspects of the City's local planning framework and applicable State level planning policies.
Back to Activity Centres, Retail and Commercial