Bunbury Back Beach Tourism Precinct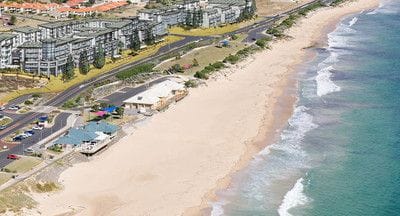 TPG has had a long affiliation with the Bunbury Back Beach Tourism Precinct stretching across multiple sites and years. Through close collaboration with the City of Bunbury and an immersive approach to design, TPG has successfully unlocked Structure Plan approvals for land that has lain vacant and under-utilised for some time. After a period of stagnation, a change in approach by the landowner allowed TPG to contribute design concepts in addition to planning advice. The resulting enthusiasm from the City enabled the project to rapidly gain momentum.
The sites collectively have an enviable surfeit of amenity, with a broad uninterrupted vista to the Indian Ocean and topography that tilts the site up to enable view sharing across the site. The Structure Plan shares this amenity further, with dedicated view corridors and pedestrian links through the development creating a physically and visually permeable precinct for surrounding residents to share the amenity benefits.
The Greater Bunbury Region is on the move, with increasing activity enabling Bunbury to be considered as a Regional City as part of the State Governments Royalties for Regions Program.
TPG has continued their involvement in the precinct, providing assistance to both the City and a private developer to craft Structure Plans for the two central sites, which have a stronger retail and entertainment focus. The City-owned land features a public plaza and TPG has assisted with detailed design guidance of how the plaza, its framing development and associated parking relate to each other on a site with complex slope across the site.
Oliver Penman | Associate